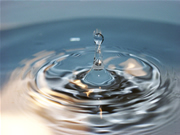 The foods we provide at Eon Coffee not only tastes great, but is healthy for you as well. Eon Coffee uses a revolutionary water filtering system that generates "Pi water."
Pi water was recently discovered in Japan and through various experiments, and is found to have health improving characteristics. Pi water helps strengthen your immune system, increase mental alertness, and lead you to a state of better relaxation.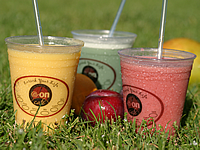 (In 1998) Researchers found that Pi water is most similar to human body liquids. Pi water has been approved by the Water Quality Association and holds one of the highest positions of quality in the water industry. According to the WQA, Pi water has the number one anti-oxidation effect compared to any other type of water. The anti-oxidation power of the water helps the cells of our body age slower. Pi water has had the effect of making people look and feel younger.
The high anti-oxidation properties not only prevent aging but improve cellular adaptation to stress and stressful environments by neutralizing the pH of the water – this means a better state of health and relaxation for you.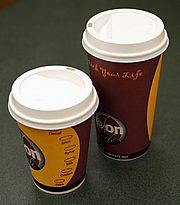 Through a special process of combining magnetic power and Ferrous Salt (Fe2Fe3), the Pi water molecule cluster is made comparably smaller than that of ordinary tap water. This enables the water clusters to more efficiently carry nutrients to the body cells and clean out unneeded waste. The Ferric Ferrous Salt also leaves the molecules more energized.
Transmission of oxygen to the brain is particularly essential for optimal brain functioning. As Pi water enhances transmission of information throughout your body, you may feel an increase in your mental alertness.
At Eon coffee, all drinks are made with Pi water to guarantee noticeable enhancement of natural flavor in a healthy way.